That said, where are Chinese buyers looking to invest this year? As we head further into Q2 of 2016, we take a look at the top 10 countries and cities most popular with Chinese buyers on Juwai.com during Q1 2016, and compare the changes from the Juwai.com Q4 2015 rankings.
Top 10 hottest countries with Chinese buyers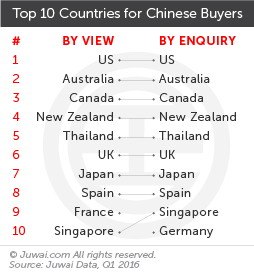 The top 10 countries most viewed and enquired by Chinese buyers did not change much from the last quarter, except in regards to the countries in the last two spots.
Reigning at the top is the US, which continues its winning streak as the top country most viewed and enquired by Chinese buyers in Q1 2016, followed by Australia, Canada, New Zealand, Thailand, the UK, Japan, and Spain.
Interestingly, while France took the ninth spot ahead of Singapore in terms of Chinese buyer views, Singapore climbed over France to snag the ninth spot in terms of Chinese buyer enquiries.
More surprisingly, France was nowhere in the top 10 countries most enquired by Chinese property investors – it was replaced by Germany instead, which nabbed the final spot at #10.
We break it down further, and analyze the top 10 cities that received the most Chinese perusal in the US, Australia, New Zealand, the UK, and Europe on Juwai.com.
United States (US)
The US remains dominant as the top real estate investment destination for Chinese buyers, and we welcome three new US cities to the top 10 list that have gained popularity with Chinese in Q1 2016 – Las Vegas (#5), Beverly Hills (#9), and San Diego (#10).
We start off with the non-movers: Los Angeles and New York City (NYC) both retained their ranks as the #1 and #2 most-viewed US city on Juwai.com by Chinese buyers, while Orlando stayed steady at the eight spot.
San Francisco tumbled down three spots to the sixth spot, while Seattle and Houston both climbed up one spot to claim the third and fourth spots respectively.
Shockingly, former #5 Chicago completely slid off the list to be replaced by strong newcomer Las Vegas. Irvine, which fell from sixth spot to ninth spot in the previous quarter, once again clambered up the ranks to settle at the seventh spot, kicking Boston off the list while its former position at the ninth spot was replaced by Beverly Hills.
Interestingly enough, San Diego – which was formerly knocked off the list by Detroit in Q4 2015 to take the tenth spot – returned the favour by replacing Detroit as the new #10.